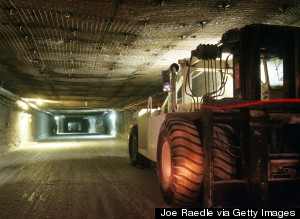 Apr 24, 2014
By Laura Zuckerman
(Reuters) - Managers mishandled a radiation leak at a New Mexico nuclear waste dump in which 21 workers were exposed to airborne radioactive particles due in part to substandard equipment and safety systems, a U.S. investigator said on Wednesday.
But the contamination from the underground salt mine in the Chihuahuan Desert - where radioactive waste from U.S. nuclear labs and weapons facilities is deposited - was unlikely to have harmed the workers' health, inspectors said.
Ted Wyka, chairman of a federal accident review board, said improperly placed or inoperative air monitors, a substandard ventilation system and mismanagement contributed to the February 14 leak of radioisotopes including plutonium.
The preliminary findings by Wyka and other officials assembled by the U.S. Energy Department, which oversees the plant, came during a public meeting in Carlsbad, New Mexico on Wednesday.
Also on Wednesday, a three-member inspection team surveyed a waste disposal room where the accident likely happened and found contamination but no signs of damage. It was the first time inspectors in protective gear had accessed the site.
http://www.scientificamerican.com/article/managers-mishandled-radiation-leak-at-new-mexico-nuclear-site-official/?&WT.mc_id=SA_SP_20140428
More news:
http://www.huffingtonpost.com/news/nuclear-waste/
13 Exposed To Radiation At New Mexico Nuclear Waste Dump