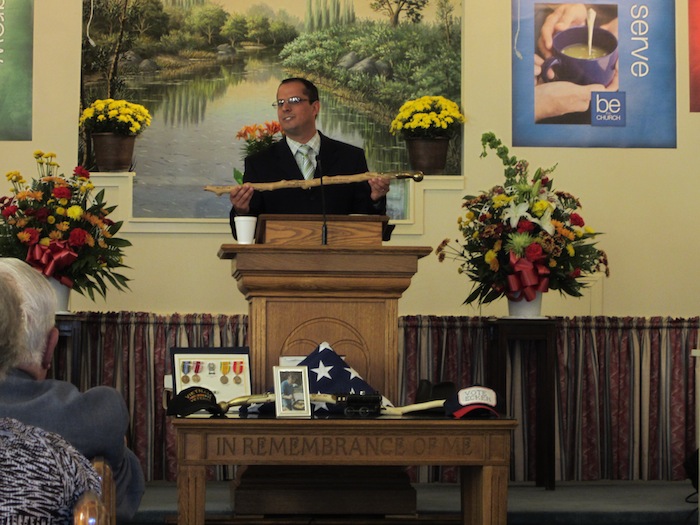 Posted:
Sunday, September 29, 2013 9:11 pm
Voice trembling, lips quivering, 8-year-old Rebecca Craddock spoke out during a memorial service for Marshall Ecker on Sunday at the church they both attended.

"I liked his jokes; they were very funny," the little girl said, desperately trying not to let tears escape while bringing some watery chuckles from the standing-room-only crowd.

Ecker, chairman of the Pittsylvania County Board of Supervisors, died suddenly Thursday; family, friends and colleagues gathered at Piney Grove Baptist Church in Gretna to celebrate his life and talk about his commitment to his faith, family and community.
"He was a man of integrity; he was a man of honesty," friend Ronnie Simpson said. "He loved his Lord, he loved his wife and family, he loved his church, he loved his country and he loved the county where he lived and served."
The Rev. Matthew Speck, pastor of Piney Grove Baptist Church — where Ecker was a member, deacon, Sunday school teach and a mentor — said Ecker was respected by people, even those who disagreed with him.
"No matter how you met or the circumstances, you always knew he cared for you," Speck said.
Speck also pointed out that not only was Ecker committed to his family, community and faith, he was a patriot who was buried with full military honors on Saturday because of his Army service in Vietnam.
Banister Supervisor Jessie Barkdale talked about meeting Ecker for the first time while campaigning for his office, and from that cautious, somewhat awkward meeting, watching a true friendship grow.
Barksdale said Ecker was a "gentle giant" — a kind and gentle man of tremendous intellect — who gave him some valuable advice during that first meeting.
"Stand up for what you believe in; then he paused for a few seconds and said, 'That's what I do,'" Barksdale said.
Barksdale said his first visit to Ecker's home was an experience he won't forget — first because of the obvious love, care and devotion to making the farm a beautiful place and secondly because of the hospitality that was extended by Ecker and his wife, Ann.
"You could feel their love for each other and their love for their home place," Barksdale said.
Pittsylvania County Sheriff Mike Taylor said he got the same hospitable treatment the first time he visited the Ecker farm — "I didn't feel like a guest, I felt like a friend" — and also agreed that Ecker was dedicated to his community.
"He was a man of vision," Taylor said. "He saw the benefits of finding ways to progress in the county."
Anne Cockrell called Ecker a "good friend and fierce protector of county citizens;" Joyce White talked about his faith in God and said it was a "privilege" to know such a "kind man;" and Sherwood Zimmerman, of the Leesville Lake Association, recalled Ecker showing up at a lake clean-up day in bib overalls asking, "What can I do?"
Many other stories were told, and it was clear that family, friends and colleagues respected Ecker.
"He was a man of his word," Chatham-Blairs Supervisor Brenda Bowman — who will replace Ecker as chair of the board — said. "When he said something you could take it to the bank."
Danville Mayor Sherman Saunders and Vice Mayor Gary Miller also attended.
Saunders called Ecker a God-fearing, God-loving gentleman who was very talented.
"He was a man of conviction; a real leaders for the county and our region," Saunders said.
"He will be missed."
Thibodeau reports for the Danville Register & Bee.
https://mail.google.com/mail/u/0/?shva=1#inbox/1416c93f54c2255c