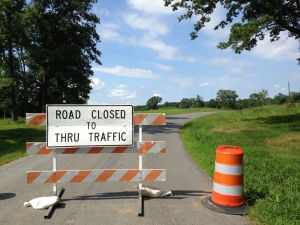 Washed out road closed in Gretna
BY JOHN R. CRANE jcrane@registerbee.com (434) 791-7987 | Posted: Thursday, July 25, 2013 7:22 pm
GRETNA — One section of a road in Pittsylvania County remains closed for flood-related repairs two weeks after heavy rains wreaked havoc in the Dan River Region.
It will be at least a week before White Fall Road south of Va. 40 East (East Gretna Road) re-opens, said Paula Jones, spokeswoman for the Virginia Department of Transportation.
"The goal is to re-open by Aug. 2," Jones said Thursday.
White Fall Road connects Riceville and Hermosa roads and is where a family was stranded during the July 11 flood after they drove up on a bridge that was washed out. When they turned around to travel in the other direction, the road behind them was also washed out.
There were no injuries in the incident.
Jones said the road was first reported to VDOT as flooded at 9:30 p.m. July 11, around the time of the incident. VDOT received its first report of it being washed out July 13, Jones said.
"This determination could not be confirmed until water went down some," Jones said. "Traffic is seeking alternate routes and there does not appear to be an issue."
A.J. Nuckols, who has a cattle farm at 2825 White Fall Road next to a signed barricade, said the washout has affected his farm operation.
About 100 vehicles travel White Fall Road per day, Jones estimated.
The section of road has been closed because VDOT workers had to wait until water levels dropped before the site could be investigated, Jones said.
"There was heavy water flow that prevented safe access to the site," Jones said. "Once we were able to start work, crews encountered a great deal of bedrock and we were hampered by additional storms and equipment issues, as well as the need to procure a larger pipe than we normally have available."
Numerous roads were closed during the storm in Pittsylvania County because of flooding, downed trees and downed lines.
http://www.newsadvance.com/go_dan_river/news/pittsylvania_county/article_238ede1e-f581-11e2-b398-0019bb30f31a.html
Flash Flood - Pittsylvania County, Va. Afton Road @ Fall Creek Bridge
Published on

Jul 13, 2013
Sometime after 9:00 p.m. the Blairs Volunteer Fire and Rescue responded to a call near the Fall Creek Bridge on Afton Road for a possible water rescue. Pittsylvania County Sheriff's Dept was also on the scene. This creek had overflowed it's banks and was about 225 feet wide. Rescue crews had to act quickly to safely remove the driver of this vehicle that was trapped in this rapidly rising and swift flood water. 7-11-2013
http://www.youtube.com/watch?v=3Nolf3BAEnY
***********************************************************
******************************************************************
Extreme Flash Flooding / Water Rescue video clip in Danville, Va. 7-12-2013
Published on

Jul 13, 2013
The Danville Police, Life Saving Crew, and the Danville Fire Dept responded to the 1400 block of SouthBoston Road at about 1:30 a.m. Friday morning. Heavy Rains across Southside Virginia brought extreme Flash Flooding to this and other areas, which prompted emergency water rescues of 2 vehicles, one of which was almost completely submerged by the fast rising waters in this clip! For our area, this is very rare to see. East and West bound lanes of Route 58 were completely shut down until the ponding water had receeded. The Red Cross also helped to assist those stranded families.This large area of deep water was between the Danville Regional Airport and the Car Wash.


*************************************************************** ************************************************************************
Flash Flooding Event in Danville, Virginia. 7-12-2013
Published on

Jul 13, 2013
Around 1:30 A.M. in the 1400 block of South Boston Road or, Route 58 East and Westbound lanes were both shut down caused by heavy down pouring rains and the rapidness of rising water that collected across from the Danville Regional Airport. Water rescues were done by the Danville Fire Dept, and the Danville Life Saving Crew during the early morning hours. Rainfall amounts were gauged at an avg of 4.3". As you see here in this clip, this is part of the run-off into the Mc Donalds and Shopping Center entrance (7-12-2013)
Great video by
charlesndanville
http://www.youtube.com/user/charlesndanville/videos